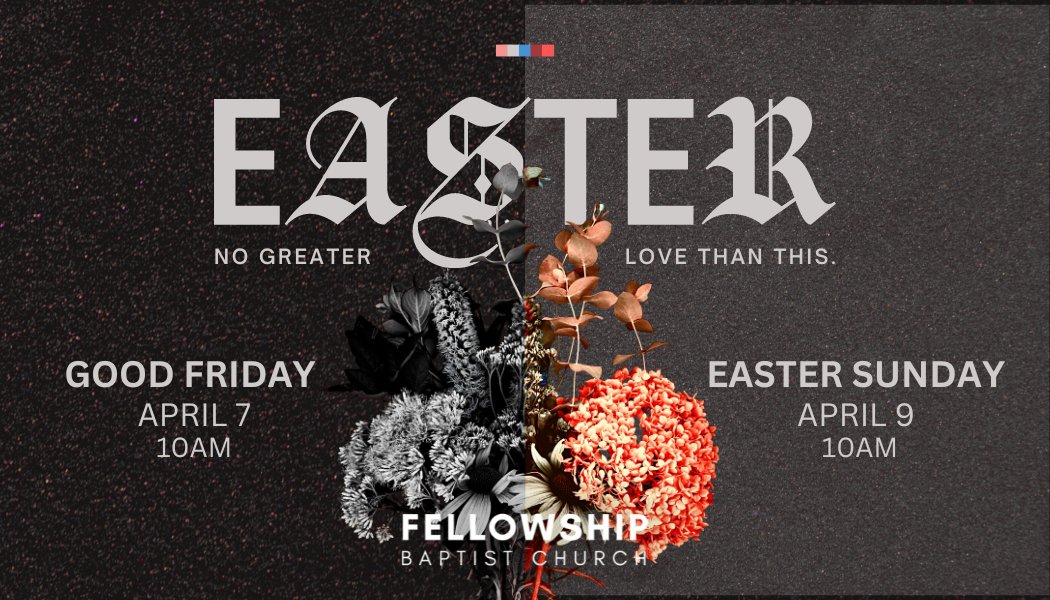 YOU'RE INVITED
SUNDAY APRIL 9th | 10 AM
FELLOWSHIP BAPTIST CHURCH
226 2ND STREET WEST. DRUMHELLER, T0J 0Y6
WHAT IS EASTER AT FBC LIKE?
Come celebrate Good Friday and Easter with us here at Fellowship Baptist Church Drumheller. Both services will have a time of singing, short drama production and a hope-filled message reflecting on the life, death and resurrection of Jesus Christ and how He can change your life completely.
All of our services are family-friendly, so there is no need to stay at home; we believe that the noises of children are a blessing from God.
During our Easter Sunday service, your kids are invited to join the Fellowship Kids downstairs for a focused time of fun and hope. We also have a toddler room that is open for your little ones. All of our volunteers are vetted before they serve in our church so you can be sure your children are safe.
FAQ's
When are the services?
Our Good Friday service is happening on April 7th at 10:00 AM.
Our Easter Sunday service is happening on April 9th at 10:00 AM.
.
How Long are the services?
Our Good Friday service will be between 45 to an hour, and our Easter Sunday will follow our typical service time, which is about 75 minutes (or an hour and fifteen minutes).
What if I am not a Christian or have never been to Church?
That's okay! You are welcome to come and ask any questions that you have or may arise! And we commend you for building up the courage to walk through our doors; we know that's not an easy thing to do!
We would love to make it easier for you to come, so why not fill out the "Plan A Visit" Form so we can greet you by name!
Where do I Park?
We understand that we don't have the greatest parking lot, and with the number of people who come to FBCD, it fills up quickly.
We do have handicapped parking spots, and also we have permission to use the public parking across the road beside the Anglican Church.
To ensure a good parking spot, we ask that you aim to be here early! Thank you for understanding and for your patience!
Meet our Leadership Team