Kids Ministry at Fellowship Baptist Church
At Fellowship Baptist Church our kids (infant through 9th grade) experience safe, age-appropriate environments where they learn about Jesus in a creative and relevant way.
We love kids, and we want to give them every opportunity to learn about Jesus. Striving to provide them with this, we have built our children's program in a way that shows how they can have a relationship with God through Jesus, by His Spirit. We have a large team of dedicated teachers and volunteers who love kids and have completed our thorough Plan to Protect Screening. At Fellowship Kids', children learn how they can know Jesus and grow as His disciples.
Preschool unit ages 4-k: Welcome to Tippy's Mouse House! Just as mice are prone to do, Tippy has tiptoed into the preschool room and scurried off with the Bible story pictures. Together, the preschoolers get to peek into Tippy's Mouse House and search for the pictures amongst all the other doodads Tippy has collected. It's a super sweet search that culminates in the discovery of God's provision and perfect love.
Grade 1-6 unit: What kid doesn't love hamming it up in front of a camera from time to time? During the "Snapshot" series, kids will be encouraged to do just that. By striking different fun and creative poses throughout the lessons, kids will help tell the stories of the Israelite's journey through the wilderness and into the Promised Land. More than that, kids will get an unforgettable snapshot of God's enduring love and faithfulness through the deserts of life.
Grade 7-9 unit: If you ask them, preteens would tell you they're not "in between" anything. They are facing puberty, drugs, sex, acceptance, and self-esteem issues every day. FLYTE is a curriculum that's all theirs, one that speaks to what they're dealing with right now - not what's past or in their future. This class takes place every other Sunday.
Your first visit
Here's what to expect when visiting Fellowship Kids for the first time:
You will need to check your child into our system, and then one of our volunteers will provide you will all the necessary information that you will need.
Upon checking in for the first time, we will ask for the following personal information (NOTE: We value your privacy and will not share this information with anyone):
Parent/guardian name(s)
Child's name
Child's birthdate
Home address
Phone number
Any special instructions (allergies, special needs) for your children
How check-in works
Before Service: You can check-in your child at our Fellowship kids kiosk. One of our volunteers will find your child's name and print off a name tag for them. Your child will need to wear the name tag portion while you hold on to your parent card. You will return your parent card when it is time to pick of your child.
After Service: After the service is complete, you will return your parent card and and then head downstairs in order for your child to be released back to you.
During Service: In the event that we need to contact you during the service, One of our volunteers will come and find you in the sanctuary and direct you to your child if needed.
Infant room
Parents of newborns! We have a nursing room (0-toddling) for parents with newborns for times when they may need a quiet space to be nursed or changed. Otherwise, we invite parents with babes-in- arms to feel free to stay in our service. Sounds of babies delight us!
Meet our Kids Directors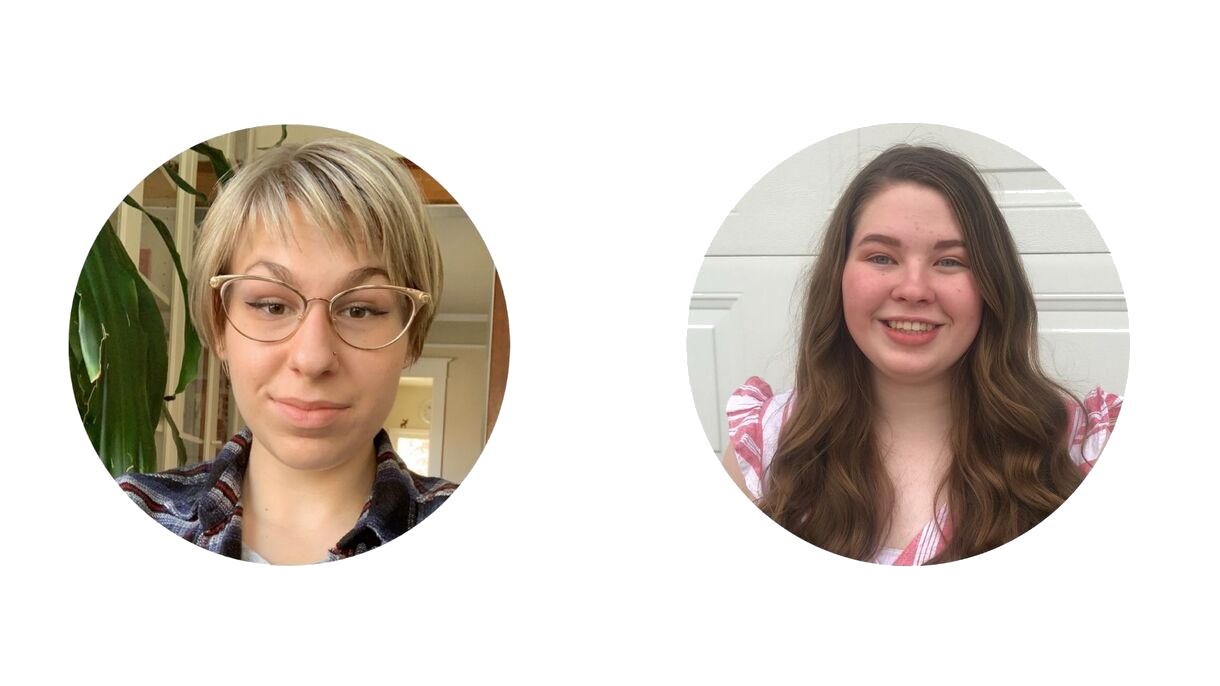 Aria Saltys & Emily Martin are the Directors of Kids Ministry here at Fellowship Baptist Church. They both have a passion for serving FBC's children and seeing them grow in their relationships with Jesus.
Got questions?
If you have further questions concerning our FBC Kidz experience or visiting Fellowship Baptist Church with children, simply click the button below and get in touch with us!