Meet our leadership
Say hello to the leadership team at Fellowship Baptist Church!
---
Dave Wiebe - Interim Pastor
Dave & Elsie, and I grew up in BC, and both in Christian families with six children. Though I went to church all my life - in fact, for nine months before I was born - faith in God was not dynamically transforming for me until I was 19. In that same year, God led me to visit my missionary uncle and aunt in the jungles of Ecuador for two months.
There, my aunt challenged me to begin praying for my future wife, "...'cause if you're getting married, she's out there somewhere." That made a lot of sense, and I began to pray for a "Babe" regularly. A year into this, I became burdened to pray that she would become a Christian if she wasn't one already. That same month, back in BC, 17-year-old Elsie came to faith in Jesus. We met the following Fall in Bible College when I was in my second year.
After marrying, we went off to Toronto for me to finish a bachelor's degree and then to Regent College, Vancouver, for my Master's. Along the way, we had four of our five children (six is just crazy), our fifth child coming soon after our first of three pastorates. We have served in vocational ministry together for 28 years and now have two grandsons. Elsie has been working as an educational assistant for several years now and in a supporting role to me.
We are both so pleased to serve in an interim position in Drumheller.
Email Pastor Dave: dave@fbcdrumheller.com
---
Aaron Visser - Associate Pastor
Aaron and his wife, Bailey, moved to Drumheller in September 2016 from the small city of Chatham, Ontario. Prior to working at FBC, he served in many different roles in the church bi-vocationally. Aaron is a graduate of Elim Bible Institute and College in Lima, New York, and is currently pursuing his Master's Degree at Millar College of the Bible.
Bailey and Aaron welcomed their first son, Levi, into the world in February 2020. Aaron's passions are evangelism, reading, teaching, and mastering the perfect cup of coffee. Aaron and Bailey have a love for Drumheller's community and hope to meet its needs by partnering with a church that lives and breathes authentic relationships.
Email Pastor Aaron: aaron@fbcdrumheller.com
---
Marian Bettcher - Administrative Assistant
Marian has served as the church's Administrative Assistant many years. She and her husband Myron have lived in Drumheller all of their lives and raised their two daughters here. She currently serves in many areas of ministry at FBC. The two of them enjoy camping, fishing, video games, movies, and visiting their daughters and grand-daughter. They have been attending FBC since the late 90's.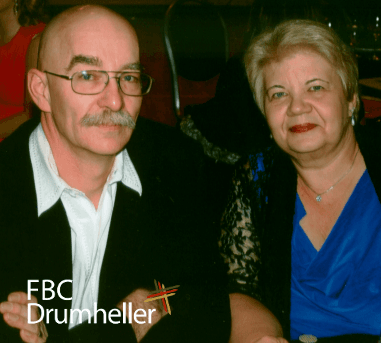 ---
Kandace Wylie-Toews - Parish Nurse
Kandace, her husband, and 3 children have lived in Drumheller since October of 1996. Kandace started her career as a Registered Nurse in ICU/CCU settings, then shortly after moving to Drumheller became a Staff Nurse at the Drumheller Institution where she worked in a variety of capacities for 17 years. The last 3.5 years were as the mental health coordinator for the institution. She left there in 2014 to pursue other interests. She has been team leader at FBC Drumheller in Care and Compassion and Local Outreach ministries for approximately 7 years. As of June of 2017 she completed the Parish Nurse program at Taylor Institute and Seminary in Edmonton.
Email Kandace: parish.nurse@fbcdrumheller.com